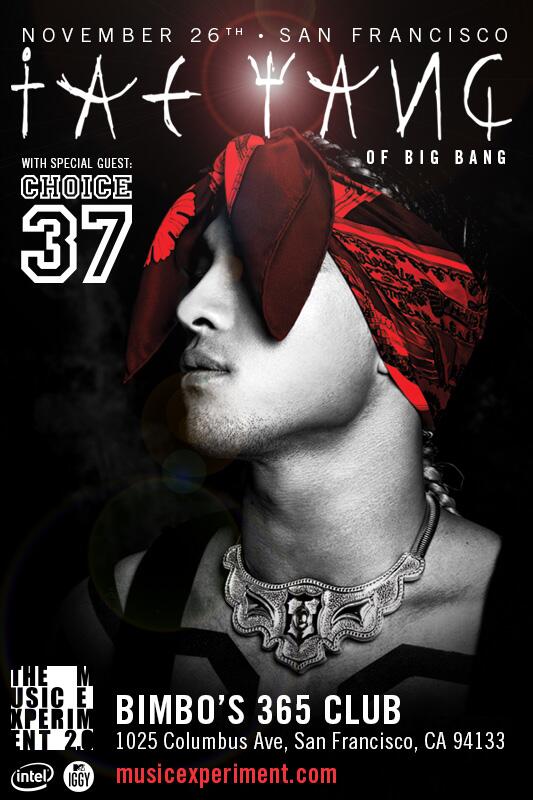 Taeyang's "Music Experiment" in San Francisco, United States!
According to MTV Iggy, the final chapter of "Music Experiment 2.0" will be held at Bimbo's 365 Club in San Francisco on November 26th.
BIG BANG's Taeyang will be joined by his special guest Choice 37 for the performance. Now that the secret location has been revealed, the event is set to take place under an all white theme, asking ticket holders to start preparing for their costumes.
The only way for fans to join the event is to win tickets so they can get access to the actual venue.
"The Music Experiment 2.0" is reportedly giving tickets every day until the actual date of the event. Fans can apply and participate in their daily contests and would get a chance to get free tickets, VIP or backstage passes. and will also be a final challenge for tickets starting November 19th.
샌프란시스코에서 태양 기전의 "음악 실험"미국!
MTV이기의에 따르면, "음악 실험 2.0"의 마지막 장 11 월 26 일에 샌프란시스코에서 창녀의 365 클럽에서 개최됩니다.
태양 기전은 성능에 대한 그의 특별한 손님의 선택 37에 의해 결합됩니다. 이제 비밀 위치가 밝혀 졌는지, 이벤트는 자신의 의상에 대한 준비를 시작하는 티켓 홀더를 묻는 모든 백색 주제로 개최하도록 설정되어 있습니다.
팬들이 이벤트에 참가하기위한 유일한 방법은 그들이 실제 장소에 대한 액세스를 얻을 수 있도록 티켓을 승리하는 것입니다.
"음악 실험 2.0"보도 사건의 실제 날짜까지 티켓을 매일주고있다. 팬이 부과 일상 콘테스트에 참여하고 무료 항공권, VIP 또는 무대 전달을 얻을 수있는 기회를 얻을 것이다 수 있습니다. 또한 11 월 19 일부터 티켓 마지막 도전이 될 것입니다.