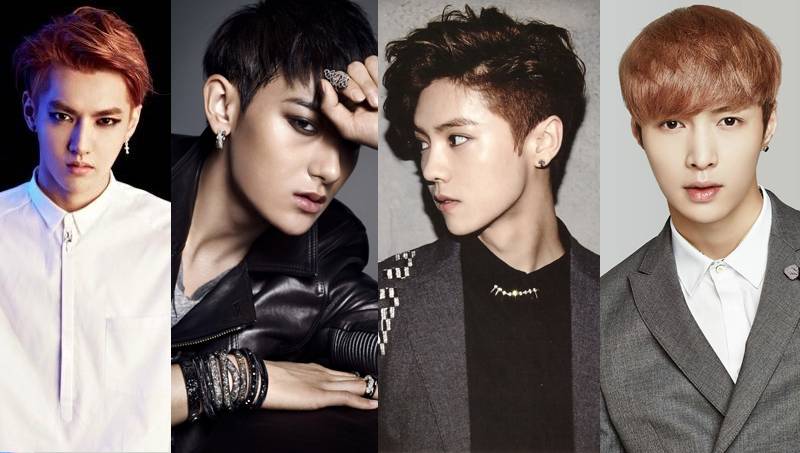 Luhan's potential departure from EXO-M and SM Entertainment, with insiders in the Korean entertainment industry in an attempt to shed some light on the baffling situation.
Luhan and SM Entertainment are not providing a lot of details, and whatever they do say, seem to be in conflict with each other.
There is hardly a case when someone files to get out of their contract after 7 years into it. This is because they finally begin to receive the income they think is fair.
This is why I think because some of these idols are young, they've made a rather hasty decision."
Thus, the rep seems to be indicating that if idols do stick around for the length of their contract, especially for at least the initial 3 years, they're able to start receiving much more income as the company starts making back their investment and the profit distribution becomes split evenly 5:5 instead of 6:4 during the initial 3 or so years.
This is why the insider believes young idols may make hasty decisions early on into their contracts, but why the idols who've been around for longer end up sticking it out for the duration of their contract because they start receiving a different profit ratio after the initial years.
On the topic of why it seems that more idols from a foreign background seem to file disputes about their contracts, the rep added..
This is more often the case for those of a foreign background who have a different mindset and values, not only because they grew up differently and with a different mindset, but more because their
The contract is low, and they also become faced with the reality that the glamorous life of being an idol they saw from the outside is not as glamorous as it seems once they're active as an idol in Korea.
Although I'm not saying all agencies are conscientious or honest, I do think that it is more on the fault of the singer if they are filing the dispute not even 5 years into their contract under an agency that is fairly well known.
Following Kris and Luhan's lawsuit with SM Entertainment, there is now a rumor spreading that the remaining two Chinese members of EXO-M will follow suit, sign on with the same Chinese entertainment agency, rebrand, and form a new boy group to promote in their home country.
Allegedly, Luhan's negotiations with SM Entertainment fell through, which is why he made his desired nullification of the contract known to the public. However, it appears that this might not be the end of it, which would continue one hectic year for SM Entertainment.
It appears that Tao and Lay, the remaining Chinese members, may hire on the same attorneys to handle their separation with SM Entertainment, so they can rejoin the others in China to form an entirely new group.
Considering Kris is on the verge of signing on with Hwai Brothers, the three others may sign on as well, so that the Chinese agency is essentially taking artists trained and previously active with SM Entertainment and launching them as their own group in China.
Whether SM Entertainment accommodates the remaining members requests, but we feel this is not so far fetched, especially due to the fact that SM Entertainment had stated, "We believe there is someone behind the scenes who is pulling the strings."
시도에서 한국 엔터테인먼트 산업의 내부자와 EXO-M과 SM 엔터테인먼트에서 루한의 잠재력 출발, 이해할 수없는 상황에 대해 설명해.
루한와 SM 엔터테인먼트는 많은 세부 사항을 제공하고 그들이 말하는 무엇 이건, 서로 충돌 할 것으로 보인다되지 않습니다.
누군가에 칠년 후 자신의 계약 나가야 할 파일을하는 경우가 거의 없다. 그들은 마침내 그들이 공정하다고 생각 소득을받을 시작하기 때문입니다.
나는이 우상 중 일부는 젊은 때문에, 그들은 다소 성급한 결정을했다고 생각하는 이유입니다. "
회사가 투자하고 다시 만들기 시작으로 따라서, 담당자들은 더 많은 소득을 받고 시작할 수있어, 특히 적어도 초기 3 년간 우상들이 계약 기간 동안 곁에 않는 경우 있음을 나타내는 것 같다 초기 3 년 정도 동안 4 : 5 대신 6 : 이익 분포가 균등하게 5 분할된다.
이는 내부자 젊은 우상들이 계약 초기에 성급한 결정을 내릴 수있다 믿는 이유는,하지만 왜 더 이상 그들은 이후 다른 영업 이익률 수신을 시작하기 때문에 자신의 계약 기간을 위해 그것을 밖으로 튀어 나와 결국 다닌 우상 초기 년.
그것은 외국 배경에서 더 많은 우상들이 계약에 대한 분쟁을 제기 할 것 보인다 왜의 주제에서 담당자가 추가 ..
이 더 자주, 다른 사고 방식과 가치를 가지고있는 외국 배경의 사람들을 위해의 경우뿐만 아니라, 그들은 다르게 다른 사고 방식으로, 그러나 더 성장하기 때문에 자신 때문에
계약은 낮고, 그들은 또한 외부에서 본 우상 인의 매력적인 삶들이 한국에서 아이돌로 활동적인 일단 생각처럼 화려하지 않은 현실에 직면하게된다.
나는 모든 기관이 양심적 또는 정직 말하는 게 아니에요하지만, 나는 그들이 심지어 오년 상당히 잘 알려진 기관에서 자신의 계약 분쟁을 제기하는 경우는 가수의 잘못에 대한 자세한이라고 생각 않습니다.
SM 엔터테인먼트와 크리스와 루한의 소송에 따라, 이제 EXO-M의 나머지 중국의 두 멤버가 소송을 수행 같은 중국 엔터테인먼트 기관과 사인, 브랜딩, 그리고에 홍보 할 수있는 새로운 소년 그룹을 형성 할 것을 확산 소문이 자신의 본국.
업자, SM 엔터테인먼트와 루한의 협상은 그가 대중에게 알려진 계약의 자신의 원하는 무효화를 만든 이유입니다 통해 떨어졌다. 그러나,이 SM 엔터테인먼트에 대해 하나의 열이 년을 계속 그것의 끝,되지 않을 수도 나타납니다.
그것은 타오와 레이, 나머지 중국어 회원, SM 엔터테인먼트와의 분리를 처리하기 위해 같은 변호사를 고용 할 수있다, 그래서 그들은 완전히 새로운 그룹을 형성하기 위해 중국에서 다른 사람을 다시 가입 할 수 있습니다 나타납니다.
고려 크리스는 중국 기관이 기본적으로 SM 엔터테인먼트와 교육을받은 아티스트와 이전의 활성을 복용하고 중국에서 자신의 그룹으로 그들을 실행되도록 브라더스에 서명 직전에, 나머지 3뿐만 아니라에 서명 할 수 있습니다.
여부 SM 엔터테인먼트는 나머지 구성원의 요청을 수용하지만, 우리는이 특히 때문에 SM 엔터테인먼트가 언급했다는 사실에, 지금까지 가져 왔습니다 느낌 "우리는 문자열을 당기고 뒤에서 누군가가 생각합니다."